Just in Fowlers Vacola are having a 30% Off Sale on their top of the range, Professional Preserving Unit (source)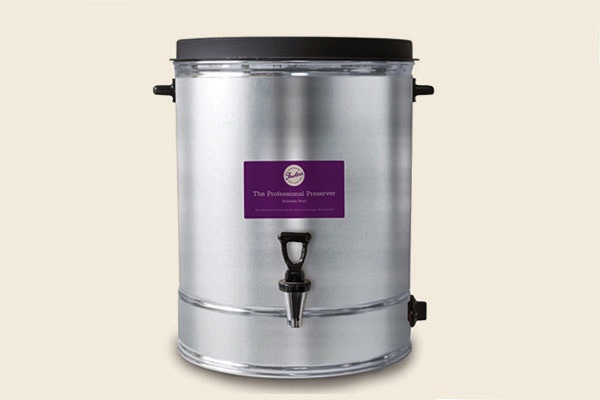 Now, this is part of their End of Summer Sale, that's right, end of Summer in Australia. This is an all-Australian product from a company that has been around since before my Grandma, well, since 1915 at any rate. This, not so little, beastie has a 34 L capacity, revamped electronics and design, and a 2400W element. It can also be used as an urn.
As a Hobby Brewer my only concern would be if the element, copper core & stainless steel coated, is exposed or concealed, if exposed does it float above the bottom of the pot, like the older "Royal Preserver" or ring the side like a Braumeister? Ideally, it has a concealed element so that a BIAB bag can sit fully in the pot without risk of contact with the element.
Unlike the Braumeiseter its not programable, but it is 1/3 of the price; nor does it come with a pump and malt pipe; but, to be fair this product is not primarily targeted at brewers, but at homesteaders, households that grow & preserve foods, preppers, cottage industries, etc.
I remember the excitement in the house when my Mum opened the box of her Fowlers Vacola "Royal" Preserver – a gift to herself, a 30 something litre, 1800W stainless steel kettle. I was even more excited when Mum gifted it to me after almost 20+ years of use. I still have it and its still far better than many of the other, commercially available Preservers I've had the displeasure of using – I've gone through 4 digital pots in the last three years; but, this one just keeps on going and going (kinda like the Energiser Bunny of Preservers)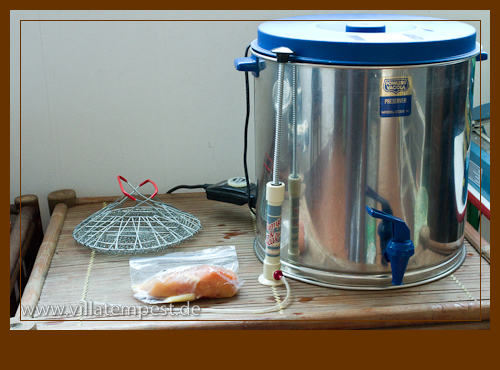 I found the electronics were sufficiently stable enough for it to be successfully used for exploratory Sous Vide Cooking producing reasonably predictable results. However, the control dial needed to be tuned somewhat in order to be certain that the temp on the dial was actually the temp in the pot. Interestingly enough, seemed to be somewhat misaligned, temperature wise I guess this would relate to how carefully its was assembled in the first place. No great biggie.
This thermal stability, was what allowed me to progress to the point of getting a dedicated, Sansaire Immersion Circulator Sous Vide Wand.
(ha ha, I just got it, Sansaire – "Without Air", Sous Vide – "Under Vacuum" ha, ha, ha… after more than 6 mths? That's just sad…)
Considering that this Urn design is at least, 30 – 40 years old and its still going strong, (Spare Parts are still available!!!) I venture that anyone contemplating buying the new Fowlers Vacola Professional Preserver could expect many, many years of reliable and dependable service from the unit. It'd be pretty hard to go wrong, with this.
I know, I'd certainly love to have a new one, even if only to, one day, hand onto my son.