The Chiko Roll is an iconic Australian fast food item. Essentially it is a savoury pastry roll filled with a meat-vegetable-cereal filling and deep fried. Here we examine the history behind the Chiko Roll and explore the culinary traditions that underpin it development and creation.
History
There are many sites on the web redistributing various versions of the history and development off the Chiko Roll, most can be summed up by this Museum Display case caption:
"The Chiko Roll is an old-fashioned fast food which is still sold in shops today! It was first sold at the Wagga Show over 50 years ago. Wagga was the birthplace of the Chiko Roll. The inventor? A Bendigo boilermaker named Francis Gerald McEnroe. "He made his first rolls on a small hand-fed sausage machine. They were made of boned mutton (lamb), celery, cabbage, barley, rice, carrots and spices. This combination was then wrapped in a thick egg and flour dough, then fried. Both ends were hand-painted." (source)
… and according to, Wikipedia …the font of all modern internet wisdom, the story (the mythology? the legend?) goes like this:
"In 1950, McEncroe saw a competitor selling Chinese chop suey rolls outside Richmond Cricket Ground and decided to add a similar product to his own line. McEncroe felt that the Chinese rolls were too flimsy to be easily handled in an informal outdoor setting, and hit upon the idea of a much larger and more robust roll that would provide a quick meal that was both reasonably substantial and easily handled."
So, where did he start? What were the origins and culinary traditions that informed this boilermaker and allowed him to develop a roll so popular, yet so baffling, still to this day, to the public and to professional chefs alike?
Culinary Traditions
First, a summary: Francis Gerald McEnroe was a Bendigo boilermaker, that apparently sold fast food items at football matches, saw in 1950 something called a, "Chop Suey Roll,"  decided to make it better and revealed this deep fried savoury pastry roll to the public at the Wagga Show.
According to Cooks Info:
"The Chiko factories make as one long roll which is cooked, then sliced, then pastry ends are added, then the rolls are fried a second time."
So, let's start where most people don't, with the pastry.
Deep Fried Pastry
In "The English & Australian Cookery Book" by Edward Abbot (apparently Australia's first published cook book, 1864) on page 17 under section VI – Frying, Abbot refers to Veal Rissoles and states to:
"Mince and pound veal fine; grate into it some remains of cooked ham. Mix them together with béchamel sauce; form into balls, and inclose each in pastry. Fry them of a nice brown."

A more contemporary (to McEnroe) reference comes to us by way of a Recipe for, "Pastry Rissoles" (Self Help Recipes and Household Hints. 1932. New Zealand. p67) in which we are entreated to:
"Roll out pastry and cut into rounds, place a little of the mixture on each. Damp the edges, fold over and brush with egg and dip in breadcrumbs or finely broken vermicelli. Fry in deep fat."
Thus, it would appear that fried pastry was a commonly known culinary concept in both Australia and New Zealand even from the earliest days.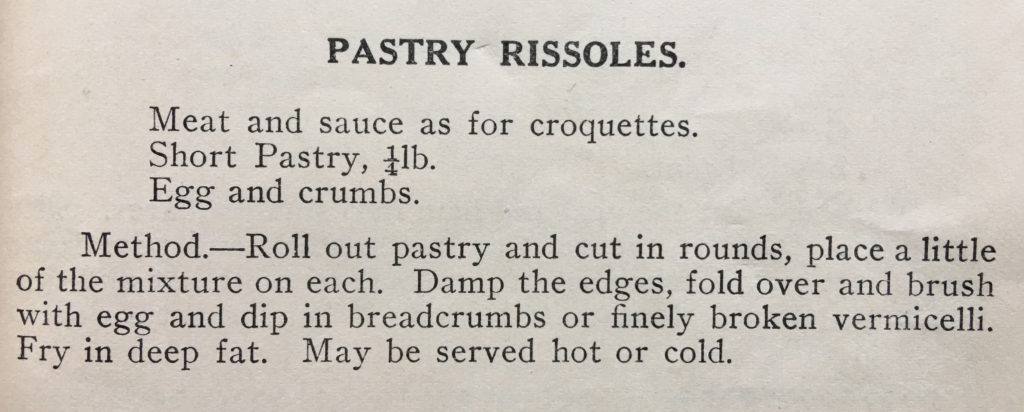 Why a Roll?
Well, we know that sausage rolls have existed for quite some time, apparently McEnroe, felt his market niche was in a fried roll, so making a Chiko Roll, inspired by the Chop Suey rolls of his competitors was possibly a better option to that of trying to make a better, baked, sausage roll.
But wait, what is this "Chop Suey Roll," that has been mentioned? Is it a spring roll, or an egg roll? What exactly, and who made them?
From the Commonwealth of Australia, Department of Labour and National Services, in the book, "Standard Recipes for industrial cafeterias and other large food services" (1957, p97) Chop Suey is a mix of stewed meat and rice. (boned veal, fresh pork, celery, onion, stock; cooked rice.)

It would appear then, that a Chop Suey Roll was a typical Chinese Spring/Egg Roll with Chop Suey as a filling. But wait, there is another roll of interest to us, and this one gives us almost all the ingredients for the filling as well as the dimensions for the final roll, oddly enough.
Also from "Standard Recipes" (pp112-113) we are given a recipe for "Cornish Rolls" which incorporates a firm sausage of minced meat, stock, carrots, turnips, swedes, cooked potatoes, parsnips, onions, salt, pepper, flour-water thickening, short or flaky pastry, and coloring. The pastry is rolled out to 6"-8" wide and length to suit a standard sheet pan. However, the pastry is filled cold, rolled pinched, baked and cut to serving size. It also mentions that cooked meet can be substituted for raw.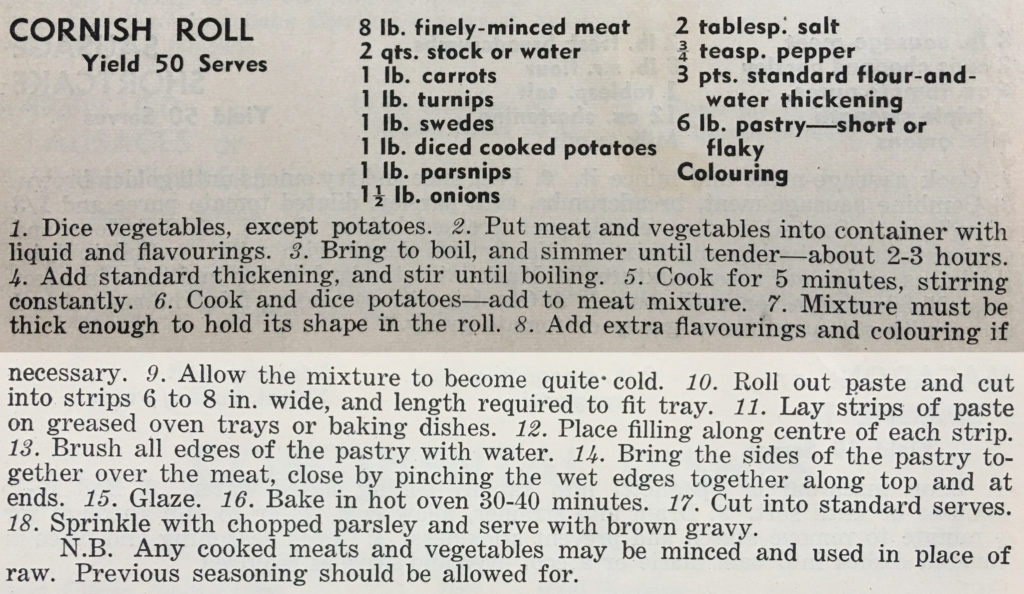 So, we sort of have a contemporary method here, plus ingredients close to what McEnroe is said to have used, but its missing the barley, cabbage and celery. In addition to this, it seems that McEnroe modified the pastry dough to include egg, perhaps to improve the frying characteristics of the dough. What ever he did though resulted in a dough of extraordinary and distinctive character.
The Filling
Disregarding the modern Chiko Roll ingredient list for now, let's revisit the story – "mutton (lamb), celery, cabbage, barley, rice, carrots and spices."
Compared with the filling for Cornish Rolls, there's turnips, swedes, potatoes or parsnip included, some missing ingredients. Why these particular ingredients and why put them in? The rice, I think is a tilt at the Chop Suey in the Chop Suey Roll.
Next, if we take a look at a recipe for "Lancashire Hot Pot" (Standard Recipes, p102) we find the ingredients include: stewing meat, haricot beans, barley, onions, leeks or celery, cabbage, carrots, turnips, swedes, salt, pepper, potatoes, and stock.

Now, consider "Scotch Broth" (Standard Recipes, p53) with includes: mutton shanks, mutton broth, pearl barley, flaked oatmeal, carrots, onions, turnips, celery (if available), salt, pepper, and parsley.

All of these recipes have their own typical home equivalent, so it is not unreasonable to consider that the Chiko Roll was originally a stripped down Lancashire Hot Pot – Scotch Broth combo with rice tipped into the mix, and made along the lines of Cornish Rolls. Thus we have mutton, pearl barley, rice rather than oats, onions, cabbage, celery, carrots (for color), salt, and pepper; whilst omitting most of the other root vegetables and the haricot beans.
Spices
Salt is often treated these days as a separately listed ingredient. Salt and Pepper, in the past were often called Seasoning for simplicity. But what about other spices? A common additive for soups and stews in Australia was, Worcestershire Sauce. In our recipe for "Chop Suey" (above) it is mentioned that, "Worcestershire Sauce may be added as an accompaniment if desired."
Thus, it is not unreasonable to conjecture that it is also used here to add something to the filling mix.
Observations
The Chiko Roll has a long and distinguished pedigree in Australian and New Zealand cuisine traditions, traditions built on a backbone of a British heritage. There is no doubt that the Chiko Roll was a new twist on original favorites, combining several different dish formulations together in a response to perceived flaws in the Chop Suey Roll. As a result, McEnroe created, what is now undoubtedly one of Australia's most iconic foods, keeping alive, what is otherwise a forgotten food tradition, that of the fried, pastry rissole.
The Chiko Roll, undoubtedly, is no rissole, nor is it a White Australian knock-off of a Chinese snack. Instead, it is a fried variation on a baked, Cornish Roll, using the ingredients common to it, Lancashire Hot Pot, and Scotch Broth. A hearty, fried savory dough item that springs from a long culinary tradition common to the United Kingdom and it Colonies. This iconic Australian food item deserves our respect, and not our bemused, mystified derision.
So next Australia Day, include the Chiko Roll in your food menu and take a moment in silent respect for Mr. Francis Gerald McEnroe, the genius that is the Chiko Roll, and the humble food traditions from out of which this culinary star was born.
References
Museum of the Riverina. "The Gold Chiko Roll." Wagga Wagga City Council. Published 5 June 2007. Web. Accessed 11.11.2016. <http://museumriverina.com.au/collections/highlights/the-gold-chiko-roll#.WCWH6zuBOkp>.
Wikipedia. "Chiko Roll." Revised 20 September 2016. Web. Accessed 11.11.2016. <https://en.wikipedia.org/wiki/Chiko_Roll>.
Oulton, Randal. "Chiko Rolls." CooksInfo.com. Published 17 September 2006; revised 12 März 2010. Web. Accessed 11.11.2016. <http://www.cooksinfo.com/chiko-rolls>.
Abbot, Edward. "The English & Australian Cookery Book" London, UK. Sampson Low, Son and Marston. 1864. Reprint. The Culinary Historians of Tasmania. 2014.
 Johnstone, Kathleen B., Self Help Co-op.  "Self Help recipes and household hints." Wellington, NZ. George W. Slade Ltd. 1932.
Department of Labour and National Services. "Standard Recipes for industrial cafeterias and other large food services." Melbourne, Au. Commonwealth of Australia. 1957
Citation
Tempest, Tsc. "Culinary Traditions underpinning the development of Australia's Chiko Roll." VillaTempest.de. Published 11.11. 2016. Web. <https://www.villatempest.com/2016/11/11/chiko-roll-culinary-traditions/>