What motivates you? For me, it trying to track down or develop a recipe for some obscure, shrouded in mister and time, recipe for some such thing. Today, I present for your consideration my efforts to explore the Lufthansa Cocktail Liqueur.
History
Developed in 1955 by Mampe for Lufthansa, apparently they developed three bottled products, Party, Bitter, and Dry Martini. They were pre-bottled to make it easier to mix in the galley of the Plane. It would appear that "Bitter" is what is known today as the "Classic" mix.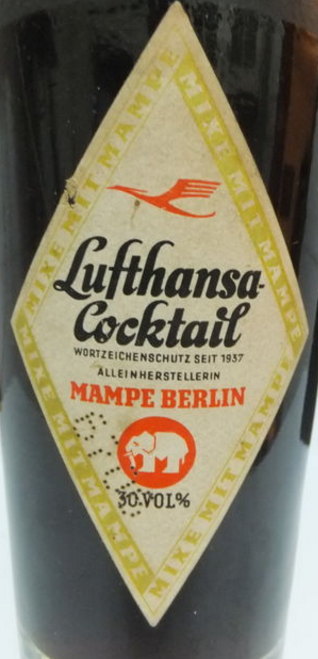 The cocktail, apparently fell out of favour in the mid 80's but was revived for its 50th Aniversary in 2005 by Berentzen amid a marketing hype of nostalgia. The Berentzen remake contained apparently 12 premium ingredients (Marketers! shades of kfc's secret original recipe, don't you think?) and came in at 30% alcohol.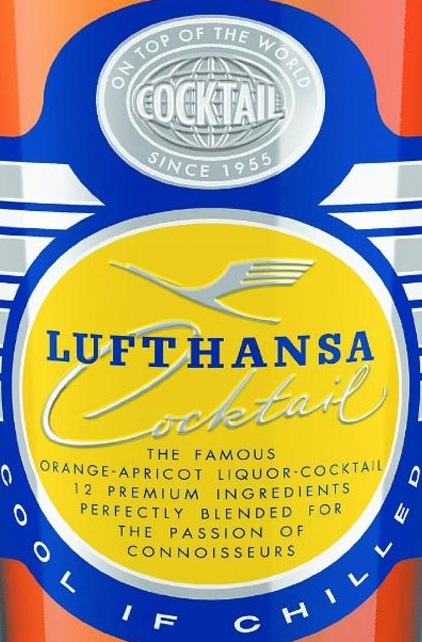 In 2015, ten years later, Small Big Brands gave the drink another makeover, bringing it down to around 15.5% along with adding 6 other mixes to the lineup. It is safe to say that this current incarnation of the Lufthansa Cocktail is a vastly different drink.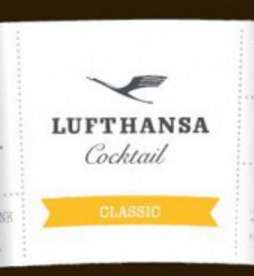 Status Quo
According to Lufthansa Magazine, to make a Lufthansa Cocktail you need to mix the liqueur in a 1:1 ratio split. That is, one part liqueur to one part mixer. This mixer can be orange juice & lemon juice, soda water, sekt, or champagne. We also know that the original cocktail liqueur was described as an orange-apricot liqueur. The cocktail that the guest got to drink would vary in alcohol content between 15-21% if we go by Berentzen's ABV. The Lufthansa Cocktail Recipe typically calls for a 40ml measure of Lufthansa Cocktail Liqueur. Why? Because that is the size of the little single serve bottles of spirits on the plane.

Looking at what Mampe was familiar with, we could hazard a guess that it was some portion of Mampe's Halb und Halb, plus a small addition of Mampe's Bittere Tropfen, and then some additions to balance out the sweetness, bitterness, and alcohol content of the final product. Either way, the serving suggestion was on the bottle.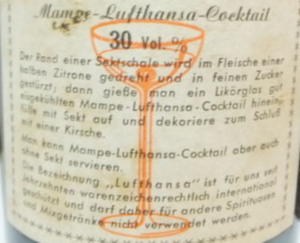 With no listing of the ingredients in Berentzen's mix we we have no direct link between the current and the past, other than both were 30% abv. But! Take heart, there is enough to put together an educated guess, and combine the ides of the past with the reality of the present.
Perameters
750ml Production Volume
30% abv
Orange, Apricot, Sweet & Bitter notes
The current Lufthansa Cocktail Classic offering lists: Rose Vermouth, Bitter Aperitif, Raspberry Eau de vie, and Elderflower, and is described as fruity, fresh, balanced between sweet and dry.
Rosé Vermouth is typically around 17.5% abv (current recipe doing the viral rounds); Bitter Aperitif is around 39% abv (note: older cocktail recipes often refer to using Orange Bitters) – this fits our preferred profile; Raspberry Eau de vie is a liqueur of around 45% abv, and Elderflower is typically used as a syrup, i.e. 0 abv.
In my personal opinion, the balance of this above, strongly shifted towards sweet and fruity, away from orange and apricots and more towards berry fruits. The strongest alcohols here are the bitters and raspberry Eau de vie, which become the dominant portions in this mix. The syrup and the vermouth are both diluents, yet, while the vermouth may perhaps have a strong impact on the flavour profile, we really don't know in which direction this Rosé Vermouth is profiled.
However, this gives us a starting point for pulling together some target products to mix together.
The List currently stands at (German Products, chosen for no particular reason other than this was originally a German concoction – Disclaimer: I make no claim to any endorsement here, implied or otherwise. I have no connection with any of these products, companies or parent companies.):
Belsazar Rosé Wermut; The Bitter Truth Orange Bitters; Prinz Himbeergeist; and Monin Holunderblütensirup.
Let's add one more product which I will use in our subsequent recipe, Prinz Marillen-Schnapps (clear Apricot Brandy). We're adding this because orange and apricot are the principle flavours of the original recipe.
The Recipe
The following recipe is my best guess at a Recipe for Lufthansa Cocktail Liqueur (Lufthansa Cocktail Likör) it is not the original recipe, nor is it the recipe for any of the subsequent incarnations, but it is informed by what's been written on the subject and some educated mixology guesswork. So, enjoy, if you will the only recipe on the web for this bottled cocktail mix.
Lufthansa Cocktail Liqueur Recipe (Lufthansa Cocktail Likör Rezept) 30% abv.
250ml Belsazar Rosé Wermut – Rosé Vermouth
370 ml Prinz Marillen-Schnapps – Apricot Schnapps/Brandy
75 ml  Prinz Himbeergeist – Framboise/Raspberry Eau de vie
20 ml The Bitter Truth Orange Bitters – Orange Bitters
55 ml Monin Holunderblütensirup – Elderflower Syrup
Combine all the ingredients, mix well and bottle. Makes 1 x 750ml batch. Serving Suggestion: To 2 full measures of Liqueur add an equal portion of well chilled Sekt or Champagne. Serve in a tumbler over ice, or in a saucer rimmed with a lemon segment and dipped in sugar. Garnish with a slice of lemon, or a cherry.
Addendum.
It should be said that "Lufthansa Cocktail" is a proprietary name, and the "real" recipe is secret. That being said, anyone who has drunk this cocktail in the last 10 years or so has not drunk the original but one of the authorized variants. Anyone who remembers the original has a dimming memory of something experienced more than 30 years ago.
I have never drunk this cocktail mix, and like many today, have an interest in it only to satisfy the wishes of someone in our parentage who is  reminiscing over this once luxury indulgence. So, keep this in mind. What you are making here is a best guess attempt at something that few remember, and if someone close to you claims to, then they are laying claim to a fond memory and your role here is to elicit and stimulate that memory. I hope, this recipe does help you do that.
Cheers.