Waldorf Salad is an old salad, a fascinating salad, a salad common to my childhood, but why did I wake up yesterday and need to make it, to revisit it and the taste of Waldorf Salad as remembered from my childhood?
No-one would have guessed that by the end of the day, I would have immersed myself in the fascinating history of perhaps the most famous celery and apple salad in the western world?
When the Waldorf Hotel in New York opened in 1893, the Swiss-born maître d'hôtel, "Oscar Tschirky" created a simple apple and celery salad for the gala opening, later publishing the recipe in 1896, in his encyclopaedic tome, "The Cookbook, by Oscar of the Waldorf." (1896, p433)

What we can see from this recipe is that over the intervening period of 3 years, this salad remained essentially a dish of apple & celery, dressed with mayonnaise. It is more than likely that this would have been presented in an elegant manner, but there is no mention in the book about garnishing  (a fascinating read that fills in many of the blanks) this salad.
By 1907, however it appears the salad had either undergone some modification and variation, or the principle garnish became part of the ingredient list. Either way, Escoffier, in his, "A guide to modern cookery" (1907, p.623) lists apple, celery root (celeriac), walnuts and mayonnaise.

What's interesting here is no ratio given for the walnuts and they are fresh, or soft walnuts with no skin. It is interesting to consider, in looking at this recipe as well, the question: Did Escoffier, the most famous chef of his day, presume to teach Tschirky how to make a balanced salad through publishing this recipe, or is he putting his own spin on it, as famous chefs are wont to do?
Next, we have mention of the salad, and how to garnish it, in the Boston Cooking-School Cookbook (1911, p339), by Fannie Merrit Farmer yet walnuts don't feature in the suggestions.

The next, "authoritative?" mention of the salad with walnuts, and commonly quoted on the web, is apparently in George Rector's, "The Rector Cook Book" (1928) however, I can not find an actual online copy of the recipe.
It is interesting to note that 6 years prior to Rector and 15 years after Escoffier, nuts: in this case almonds and pecans; get a mention by Marion Harris Neil in her book, "A Calendar of Dinners, with 615 Recipes" (1922, p 159)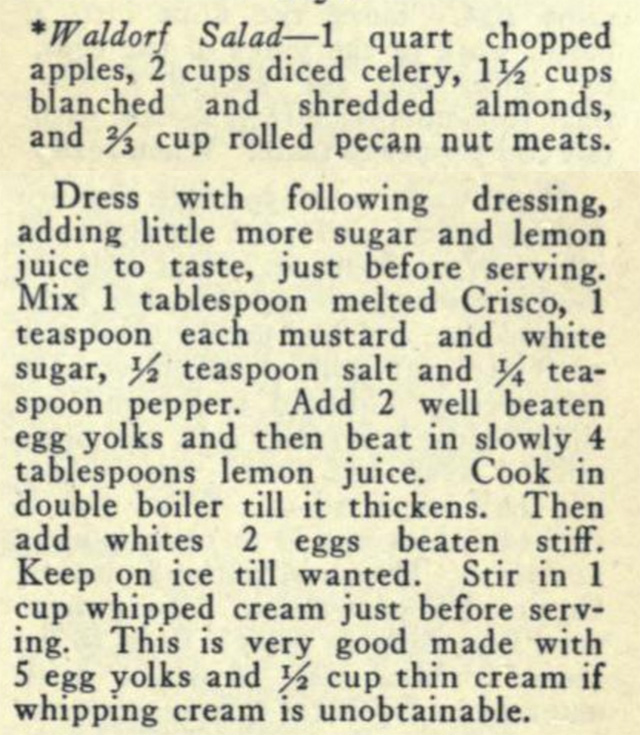 Two different types of nuts and quite a substantial quantity. The introduction of lemon juice and sugar and a faux mayonnaise dressing. Hmmm…
What is clear though is that nuts, in general, and walnuts more specifically, have been been an, on again, off again inclusion, but walnuts are now considered the traditional garnish ingredient, and indispensable component in this salad.
By 1977, the Waldorf Salad had become so tired that it was featured, perhaps as the poster child for the differences between British and American cuisine, in a Fawlty Towers sitcom. By this time, grapes had apparently become a ubiquitous and essential ingredient.
As a testament to the Salad's international appeal, Barbara Rias-Bucher included a recipe in her book, "Das Grosse Buch der Guten Kücher" (1995, p60)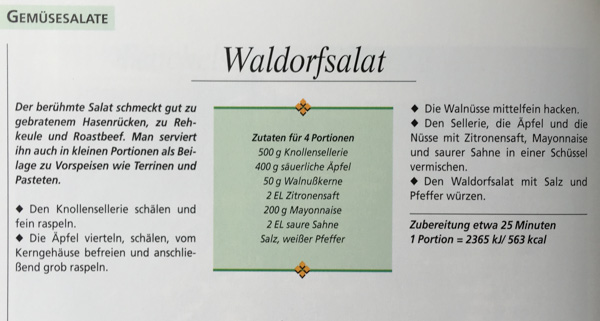 which is somewhat reminiscent of Neil's, including lemon juice, sour cream, salt and pepper as part of the recipe.
In spite of the fact that Chefs of all sorts, and cookbook authors, have been putting their own stamp on the recipe, and ingredients, Robuchon's, "Larousse Gastronomic" (2009, p1142) preserves the original recipe and simply states that walnuts were added sometime later, with no further attribution.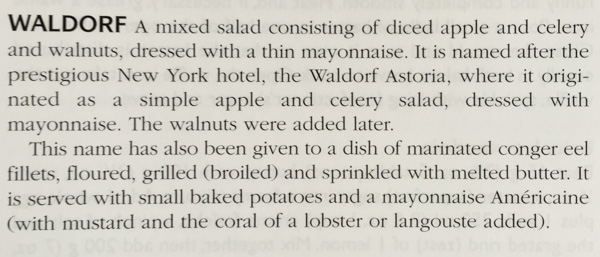 It is clear from the history seen here so far, that there has been some common threads, and perhaps two schools of thought, guiding the development of variants of the Waldorf Salad, towards how we perceive it today.
Now, the "taste" of Waldorf Salad, well of the salad that I remember from the 70's and 80's, or if you prefer, of late last century, was pretty much the lemon and sugar, mayonnaise, walnuts, apples and celery version.
I remember clearly the mayonnaise – gloopy, all over the place, swimming in it, mayonnaise – the shop bought kind, like "Miracle Whip." I was never a fan of mayo, actually of anything that contained a noticeable vinegar hint. The apples were cubed, and the celery sliced across the rib. I think mum might have try variants with sour cream and or yoghurt, basically something similar to Barbara Swain's, "Cookery for 1 or 2" (1987, p52)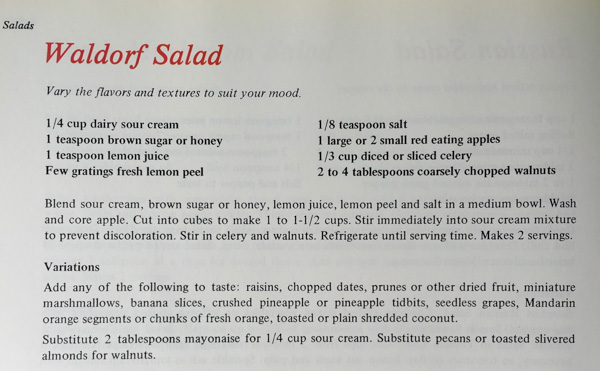 but I don't really recall it so clearly anymore, so I guess I'll just have to eat my way through salad history and see.
Original Waldorf Salad
So, let's start with the original Waldorf Salad and Oscar's recipe. This what we need: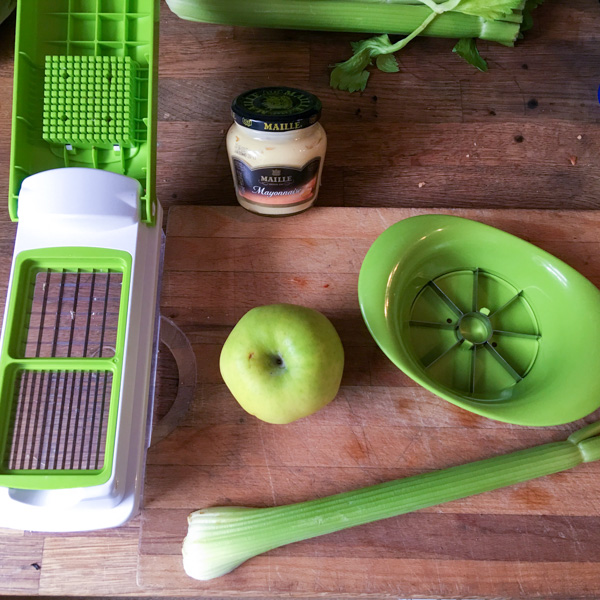 Some mayo, a green apple, a rib of celery and that's it. The apple corer/wedge-slicer is a wonderful bit of kit, easy to use and you don't need superior knife skills. Works equally as well on cucumbers.
Method:
wedge and core the apple, then slice the apple wedges in half lengthwise. make sure there are no seeds in the apple slices.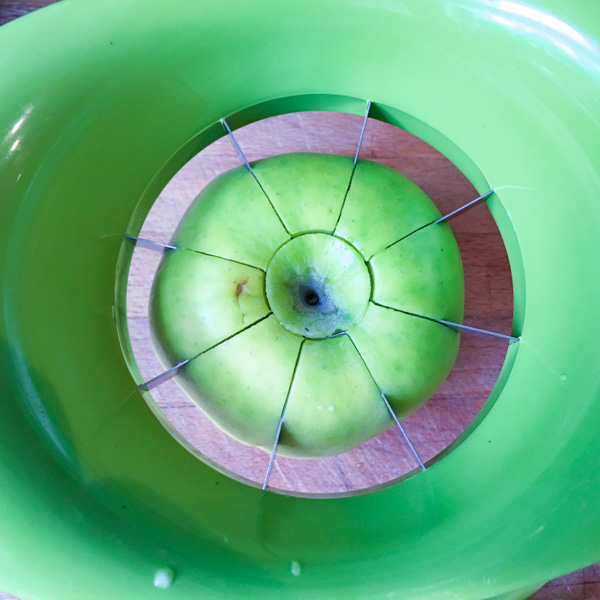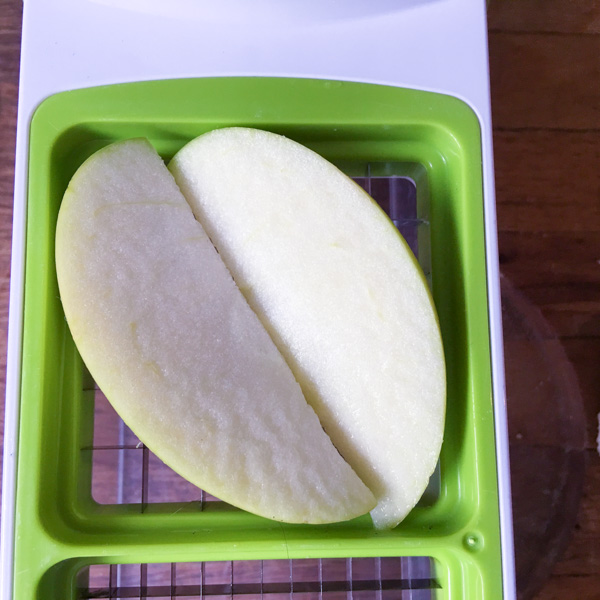 Swap out the cubing blade and replace with the v-slicer mandolin then slice up the washed rib of celery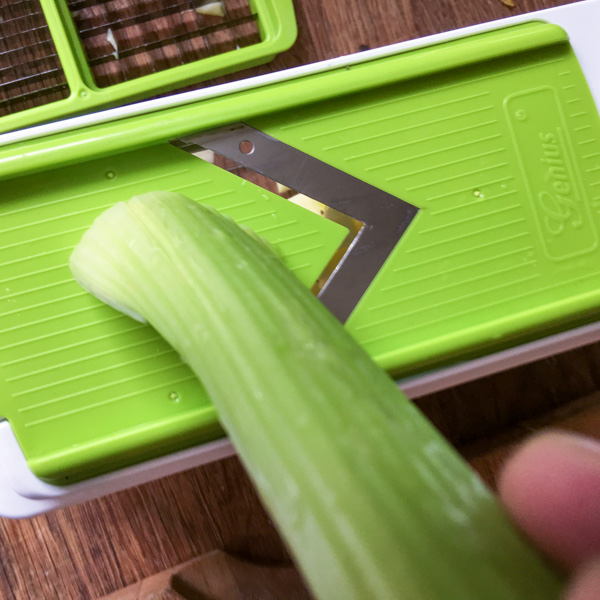 Take equal amounts, more or less of apple cubes and celery slices and combine them with a good mayonnaise. Use only enough to lightly coat the ingredients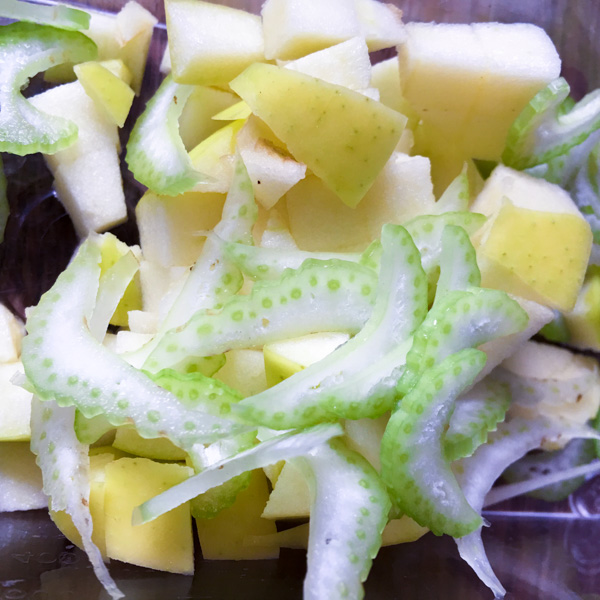 Plate up in any manner you wish, I used a ring mould and garnished with some chopped celery leaves for a bit of colour.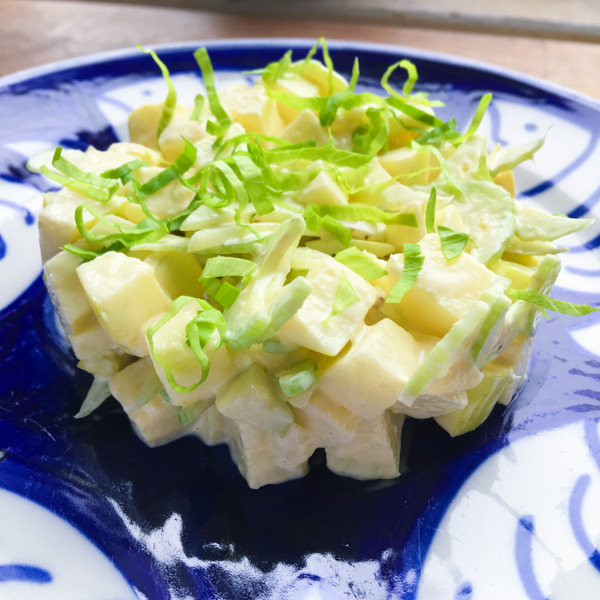 Traditional Waldorf Salad
Prepare the salad as above and garnish with a sprinkle of coarsely chopped walnuts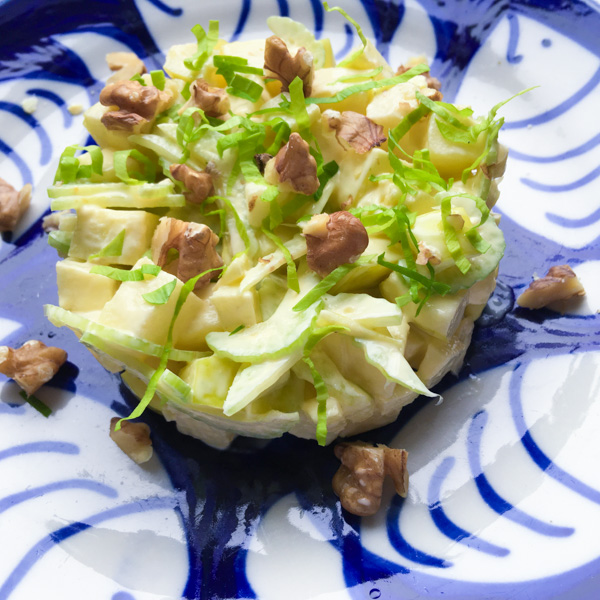 A 1980's Waldorf Salad
Proceed similarly as above but note the following additions:
After preparing the apples, douse them in a little lemon juice, toss well to help combat browning of the apples
use the fine dicer on the Nicer Dicer Plus to chop the walnuts, its quicker and more uniform than with a knife.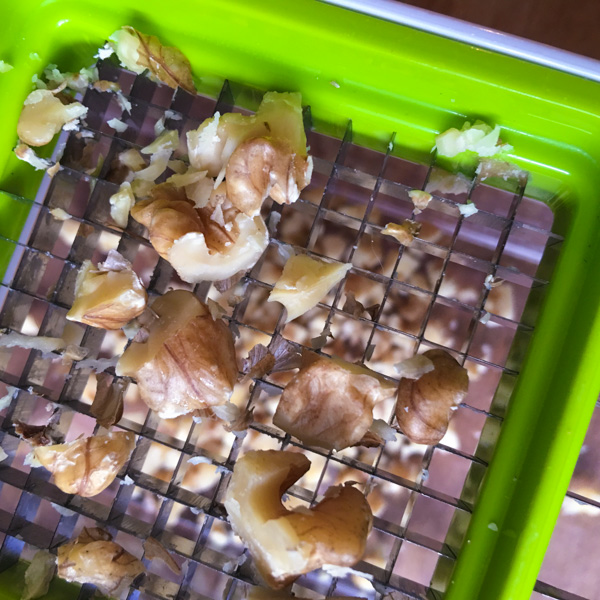 plate up the salad in a suitably sized cup of lettuce leaf
garnish with chopped celery leaf, walnuts and a light rasp of lemon zest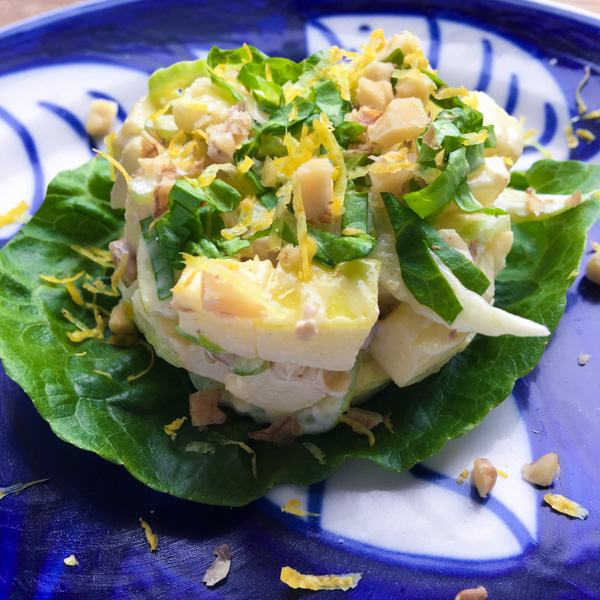 A Contemporary Waldorf Salad
These days people are looking for ways to make their salads much lighter, and more fat free. This often involves, using low fat mayonnaise, mayonnaise made from so-called "healthy oils," or by cutting the mayonnaise with sour cream, lemon juice, water, milk, yoghurt, or even substituting with a yoghurt dressing for the mayonnaise altogether. Other ways of shifting it up is to change the way in which the salad is presented, using other celery components and lettuce substitutes and garnishing with various other fruits such as grapes, dates, raisins, etc.
One of the biggest issues I have with the traditional salad is that it is heavy going from a physical standpoint, you really have to chew on it. One change that makes the salad feel so much lighter is to change the way the ingredients are prepared. Keeping all else more ore less the same, here's how to change it up, considerably:
using a V-Slicer mandolin with the fine julienne fitting, slice the apple into matchsticks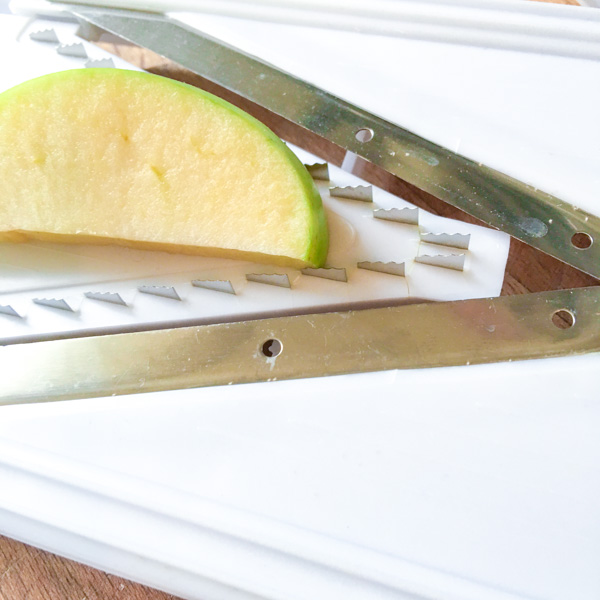 Using the end of the celery bunch, peal away the dirty bits and julienne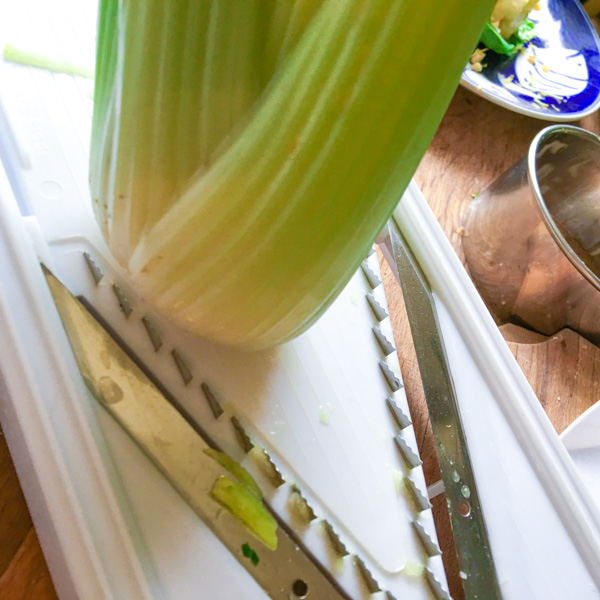 toss the apple and celery together with a coating of lemon juice and a scant amount of mayonnaise ensuring that all the apple and celery is lightly and evenly coated, but not dripping in mayonnaise
Shred the green tops of a lettuce, and place in the bottom of a ring mould, lightly drizzle some lemon juice over the lettuce and layer some quartered walnuts on top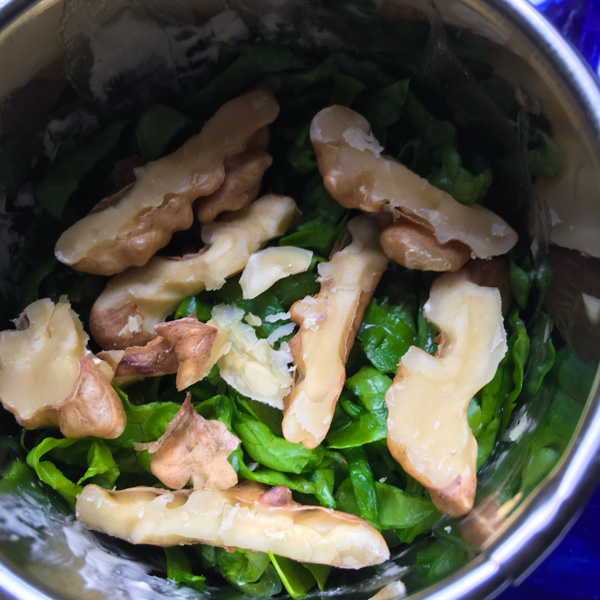 top with the julienne of apples and celery and garnish with shredded celery leaves, a sprinkle of diced walnuts and a rasping of lemon zest
drizzle a few drops of extra virgin olive oil around the plate and sprinkle the oil lightly with any red chilli powder of your choice. Alternatively you use ultra fine chilli strings, or curled slices of bell pepper…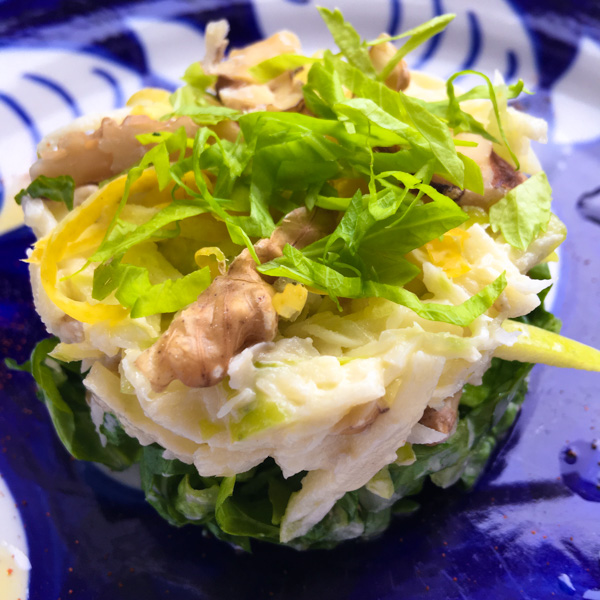 and there you have my take on  a gently dressed, easy to chew, flavourful and well textured, crisp and light, contemporary Waldorf Salad, that is true to both the original, and the tradition, elements of the dish.
Enjoy.